/** creative commons music 57 //post human era - where i'm going half the time **/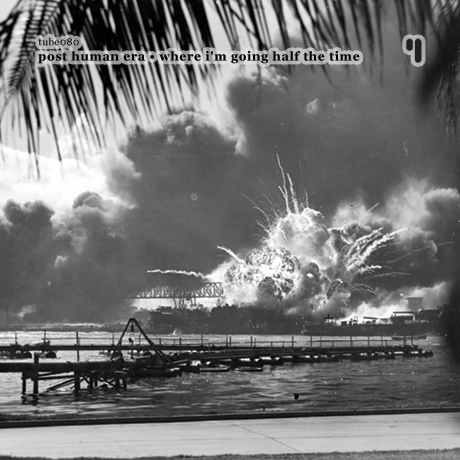 es wird mal wieder etwas popiger. also jetzt nicht so hausfrauenradiogedudel-popig (was jetzt nicht abwertend gegenueber hausfrauen gemeint ist!), sowas kommt mir hier natuerlich nicht rein, anders popig eben. leicht experimentell, trotzdem noch irgendwo einpraegsam.
post human era
haben fuer release nr. 80 auf dem portugiesischen netlabel
testtube
gesorgt. auf testtube wird in letzter ein release nach dem anderen rausgefeuert (ca. ein release alle 1 bis 2 wochen). was, wenn man auch noch viele andere netlabels auf dem radar hat und immer wieder neue sachen entdeckt, dazu fuehrt, dass man mit dem anhoeren neuer sachen immer etwas in rueckstand geraet. ist aber auch ein schoener gegentrend, zu den netlabelschliessung auf der anderen seite (falls es sich dabei ueberhaupt schon um einen trend handelt).
aber zurueck zum release selbst. da ich mir ja immer ein bisschen schwer damit tue, musik irgendwo konkret einzuordnen, nehme ich sehr gerne die labelbeschreibung her. so brauche ich mir keinen wolf schreiben und alle die das lesen, bekommen hoffentlich einen kleinen einblick worum es geht:
Mild, often happy - not euphoric -, mid-tempo - not too slow and definitely not too fast. It's a pleasant blend of moments, from pop music to experimental stuff. It's pop for the non-pop listeners (Post-pop electronic music if you want to name it). It's more about instruments than voice, which has a slightly metallic touch (post-human). The passages, approaches of structure, melody (usually strong without losing it's environmental side) and effects are often exotic; they don't sound like a band's everyday meal - the end of "Before Guns" is a perfect example of an ingenious and surprising ending.
[test tube 080]
"it's pop for the non-pop listeners" gefaellt mir sehr gut. wuerde ich so zwar nicht 100%ig unterschreiben, macht aber hoffentlich lust da mal reinzuhoeren.
zum label:
test tube
zum release:
post human era - where i'm going half the time [tube080]
[
direktdownload
- .mp3(8 tracks gezippt)/37min/70mb]
Labels: freie kultur, freie musik, musik